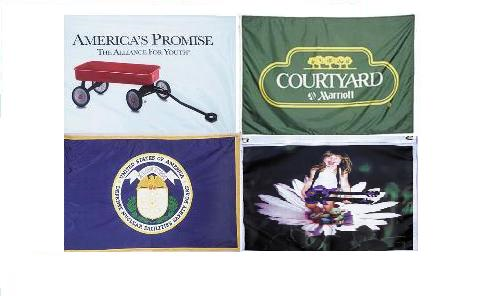 American Flagpole & Flag Co. is the industry leader in custom made flags. Our state-of-the-art processes allow us the utmost flexibility to provide our customers with a broad range of printed flag products. Our nylon flags are ideal for:
Corporations
Organizations
Teams
Non-profits
Individuals
We also offer the latest technology including dye sublimation, allowing the reproduction of photo-quality images to be placed onto a flag or banner. Delivery time can vary depending upon process used and quantity needed. We strive to meet your deadline with each custom order. Below, please find a more detailed description of each process.
Custom Flag Prices

Quantity

Size

1-2

3-5

6-11

12-24

25-29

50-99

100-10,000

2 x 3 Ft

$96.00
$76.00
$68.00
$63.50
$47.50
$35.50
Call

3 x 5 Ft

$129.00
$109.00
$98.00
$69.90
$49.90
$41.90
Call

4 x 6 Ft

$152.00
$132.00
$118.00
$95.50
$62.40
$57.50
Call

5 x 8 Ft

$199.00
$189.00
$172.00
$119.10
$99.70
$89.90
Call

6 x 10 Ft

$299.00
$279.00
$249.00
$219.00
$199.00
$179.00
Call

Setup*

$49.00
$49.00
$49.00
$49.00
$0.00
$0.00
$0.00

*Setup charges will not apply to re-orders placed within one year
Tru-Image Digital Printing Process
Minimum Quantity of 1 single sided
The Tru-Image printing process prints from an ink-disperse printer instead of using traditional screens. This digital print process is ideal when smaller quantities or reproduction of any digital image is desired. This process allows us to reproduce any of your digital images with excellent penetration and rich colors.
Lightweight, durable UV resistant 200-denier nylon
Ability to reproduce any image including gradations in color
Can be made in low quantities
Complexity of design does not affect price
Screen Printing Process
Minimum Quantity of 6-12 depending on size
Several screen printing processes and combinations are available to produce the right effect for your specific application. We can either use a traditional screen print process or our dyed sublimation process depending
Lightweight, durable UV resistant 200-denier Nylon
Most cost effective, great for one or two color flags or large quantity orders
Number of colors used increases cost
Minimum quantities depending on size
Can simulate a 4 color process and gradations
Email us now for a FREE quotation!